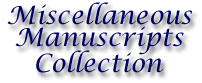 Organized by Accession
MMss1 U. S. & France Alliance Prints, 1783-1787
MMss2 Bossier Parish Land Records, 1857-1860
MMss3 Huey Long Clippings
MMss4 Shreveport High School, 1910-1911
MMss5 Profile of Mooringsport, 1976
MMss6 Clarke & Chaney letters;


Beaird U. S. Patent Deed
MMss7 Keatchie College Catalogue, 1906-1907;


Keatchie Photos
MMss8 C. C. Meadows Memoirs, 1894-1977
MMss9 Pons card and Kaltenborn letter
MMss10 Bulkey Family, 1862-1930
MMss11 Barnum's Museum Flier, 1864
MMss12 Erickson Diploma (Thatcher Ins.)


Shreveport Booklet, 1902
MMss13 World War II Miscellaneous Items
MMss14 Lee Hardware Co. Catalog (reports)
MMss15 Caddo Parish School Books (reports)
MMss16 Newspapers; American Progress
MMss17 Shreveport Times, 1918
MMss18 Bessie Horton Autograph Book
MMss19 Misc. Newspapers Headlines
MMss20 Misc. Newspapers 1923-1955
MMss21 Misc. Newspapers & Scrapbook
MMss22 World War I Material
MMss23 Frank Grosjean Material
MMss24 George & Mae Duncan Oral History,


"A Long, Long Road"
MMss25 Strand Theatre Interview with Ben Bicknell
MMss26 World War I Souvenir Program;


U. S. Government War Exposition, 1918
MMss27 Huey Long Testimony,


State of Louisiana vs. Huey Long
MMss28 Edington & Armstrong Letters, 1838;


1841 (photocopies)
MMss29 Misc. Steamboat and business receipts &


accounts, 1780-1868
MMss30 Annual Report; Board of Public Works to the


Louisiana State Legislature, January 1861
MMss31 Shreveport Architecture,


Bottom's Documentary
MMss32 Kennard W. Harper, Misc. Items
MMss33 Louisiana State Congress of Mothers
MMss34 Biography of Edward W. Beard
MMss35 M. H. Wisenor Journal
MMss36 Oil Field Photographs, 1911-1913
MMss37 Wheless & Whited Sawmill at Alden Bridge,


Louisiana, 1893-1898
MMss38 Extracts, Annals of Tennessee, Journal of


Voyage from Ft. Patrick Henry to Cumberland


River, 1779-1780 (photocopies)
MMss39
MMss40 Shreveport Times Metal Engravings
MMss41 Boaz Scrapbooks
MMss42 Mary Killie Misc. Collection
MMss43 Arkansas Gazette
MMss44 Libbey-Owens Ford Glass Co. Materials,


1948-1979
MMss45 Booklet: Shreveport, Louisiana, published by


Advertising Club of Shreveport, 1919
MMss46 Goodloe Stuck Misc. Collection


Leadbelly recordings
Mmss47 General Misc. Items
Mmss48 Newspapers: Bienville Messenger, 1865-66;


Natchitoches Vindicator, 1867-1868
MMss49 Olin Ind. Acquisition of Assets;


Frost Lumber Ind., 1949-1951
MMss50 Misc. Theatre Programs
MMss51 Paul Murff O'Neal, Jr., "Biography and


Recollections"
MMss52 Misc. Postcard Collection
MMss53 Capt. W. E. Moore, 1861-1862 (photocopies)
MMss54 Pamphlet and Program Collection
MMss55 The Improved Housewife, 1844
MMss56 Albert Lafayette Atkins Portrait (framed)
MMss57 Sunny South Female Seminary,


Leola Scott, Diploma
MMss58 Shreveport, Louisiana Almanac, 1905
MMss59 Barksdale AFB Aerial Photos
MMss60
MMss61 William Aull letter, September 5, 1883
MMss62 Braezeale Scrapbook, 1862-63
MMss63 Civil War Letters and Amnesty Oath
MMss64 Pearce Diary
MMss65 Queensborough Art Project
MMss66 "Early History of Natchitoches"
MMss67 Letter, W. K. Henderson to N. B. Stoer, 1932
MMss68 U. S. Income Tax Forms: 1921; 1926; 1927
MMss69 Research Institute C of P & A Science, Northeast
MMss70 J. B. Slattery Material
MMss71 H. B. Lawrence Misc. Material
MMss72 "St. George" Greek Orthodox Church


Scrapbook (photocopy)
MMss73 C. G. Rives Letter, 1928
MMss74 T. S. Serpell Certificates of Election
MMss75 John Tatschl Sculpture, Vivian, Louisiana
MMss76 Shreveport Pure Water Assoc.
MMss77 James M. Talbert, Will and Testament


(photocopy)
MMss78 Mrs. Ray P. Oden Material
MMss79 William J. B. Chandler Manuscript
MMss80 Jacobs-Hamilton Family Papers
MMss81 George R. Wilson letter
MMss82 Centennial Exhibition of: 1876; 1884; 1893
MMss83 Louisiana and Texas Boundary Retracement


Report, 1940
MMss84 W. A. Stephens Correspondence
MMss85 Mansfield, Louisiana Postcards
MMss86 John F. Staub Drawing
MMss87 Vandiver Vowell Papers
MMss88 J. D. Watkins Shed Road Day Book,


1880-1883
MMss89 Shreveport Bench and Bar Association


Portraits, 1925
MMss90 Misc. Letters and Certificates, 1859-1942
MMss91 Pelican, Louisiana Material
MMss92 Adrian R. Snider Arkla Gas Photographs
MMss93 Mansfield Female College Yearbooks,


1925-1926
MMss94 Rosa Mixer Scrapbooks, 1893-1932
MMss95 World War I Clippings and Patriotic Scrapbook
MMss96 Elzy Raborn, Last Will and Testament
MMss97 Otis A. Smith. Misc. Items, 1870-1948
MMss98 Script of "The Slaves," by Hebert Biberman


and John O. Killens
MMss99 Alison-McIver Family Papers
MMss100 Shreveport Business Telegram & photo
MMss101 Louisiana Post Office Route Schemes
MMss102 Lal C. Blanchard
MMss103 G. W. Sample Materials
MMss104 Sibley Misc. Collection
MMss105 C. W. Lane Letter
MMss106 N.B. Stoer Papers, 1911-1935
Mmss107 South Highlands Subdivision, Abstract of Title
MMss108 Jack Wells, Abstract of Title
MMss109 Caddo Parish Schools, Property Records,


1848-1927
MMss110 Thesis (partial); "The Anti-Chain Store


Movement in the U. S. 1927-1940,"


by John Harper
MMss111 D. Nichols Letters (photocopies)
MMss112 Ferdinand Jacquet Letters
MMss113 George W. Jack Letters
MMss114 J. S. "Irish" McNeel Materials
MMss115 Herndon Plantation Materials
MMss116 Mrs. Frank Blanchard Journal
MMss117 Mrs. Nola Locke Music Collection
MMss118 Shreveport Daily Times Misc. Collection
MMss119 Ordinance of The Village of Vivian
MMss120 William Byrd Barnes Papers
MMss121 R. T. Douglas Memoirs
MMss122 H. Lane Mitchell vs. City of Shreveport, 1969
MMss123 Albert R. Stephens, World War II Scrapbook
MMss124 Pleasant Hall certificates of Johnson family
MMss125 Herman Zodiag Correspondence
MMss126 "Policies on Slavery,"


Compte, Louisiana, 1804
MMss127 Fenn A. Leeming, Ed. Mansfield Enterprise;


"Notes"
MMss128 M. E. Stroud Letters
MMss129 Nat B. Mooring Letter
MMss130 Caddo Indians Video
MMss131 Louise Yazbeck Music
MMss132 Rutledge and Currey Genealogical Materials
MMss133 Leonidas Pendleton Spyker Diary
MMss134 Noel Brothers
MMss135 T. D. Snelling Photo
MMss136 Sosie Soden Misc. Collection
MMss137 Education Textbook Collection
MMss138 Caddo Parish Occupational License Tax List,


1860-1861
MMss139 Ardis and Company, July, 1916
MMss140 James L. Newcomb Journal, 1882
MMss141 Mt. Olive School Letter
MMss142 Shreveport Planning Commission
MMss143 Newspaper Summaries, 1942-1968
MMss144 Letters w/Famous Signatures
MMss145 Commercial National Bank Video-1939
MMss146 Huey Long Dictionary
MMss147 Louella May Mercer Poole, "Reminiscences"
MMss148 Shreveport Aerial Views, 1925-1926
MMss149 Caroline Dorman Correspondence, 1962-1964
MMss150 John Gamblin Letter/Certificate
MMss151 Shreveport Police Dept. Photo Album
MMss152 Plain Dealing High School Catalogue & Girl's


Scrapbook
MMss153 First National Bank
MMss154 CCC District Annual, 1933 (photocopies)
MMss155 W. T. Leeper World War II Scrapbook & Diary
MMss156 "Leadbelly" Videotape
MMss157 Act of Donation, City of Shreveport, Land for


Barksdale AFB
MMss158 Hotel Youree Scrapbook
MMss159 KWKH Anti-Chain Store Broadcasts
MMss160 Michael W. Berry Materials
MMss161 Mrs. J. H. Ship Materials
MMss162 Billy Graham Shreveport Crusade
MMss163 Jones-Black Family Papers
MMss164 Shreveport scenes (postcards)
MMss165 Edward Whitlach World War I Materials
MMss166 C. R. Fleming Genealogy
MMss167 Sara E. Strong Autograph Album
MMss168 Arcadia Male & Female Academy Brochure
MMss169 Shreveport Observatory Documentary
MMss170 Travis at Marshal Streets, Abstract of Title
MMss171 Commerce at Traffic Streets, Abstract of Title
MMss172 Louisiana Publication: February Magazine


Section for the Sunday News-Tribune,


New Orleans
MMss173 Byrd High School Yearbooks
MMss174 Georgette Brandao Todaro Notebook
MMss175 Martha Deupree Papers
MMss176 Video: The Right Combination
MMss177 PBS Segment: Leadbelly & O. Winston Link


20/20 Segment
MMss178 Southwestern Gas & Electric Co. Photos
MMss179 Minden Chamber of Commerce Photos
MMss180 Plain Dealing Photos
MMss181 Mooringsport Oil Field Site Photos
MMss182 Joseph Thompson Davidson Booklet
MMss183 Hollingsworth Genealogy
MMss184 Industrial Survey: Shreveport & Caddo Parish,


1925
MMss185 Slattery Family Materials
MMss186 State Spelling Certificate
MMss187 Shreveport Trolley Maps
MMss188 Bryan Family Bible
MMss189 Baker World War II Civil Defense Materials
MMss190 Lambert Gardens Portfolio
MMss191 R. T. Douglas Memoirs
MMss192 Natchitoches Parish Medical License
MMss193 Al Gore Video
MMss194 Holoubek remembers Fr. Gremillion
MMss195 "Lost Louisiana" Video
MMss196 Stephenson-Fullilove Genealogy
MMss197 Geron Family Genealogy Resolution: Death of


Jules Dreyfus
MMss198 Shreveport Mutual Building Assoc.
MMss199 Genealogy: John Gaar & Andress Gaar
MMss200 Red River Bridge Construction Photos
MMss201 Caddo Parish Voters–1967
MMss202 Shreveport Symphony 36th Anniversary
MMss203 Junior League: Directories and Programs
MMss204 Lifeline Radio Recordings
MMss205 C. Pardee Co.'s Land Holdings
MMss206 Ellen Campbell Gaiennie Scrapbook
MMss207 Franklinton, Louisiana Girl Scout Troop


Scrapbook
MMss208 "Journal of Camp Life of a Private Soldier" by


W. N. King
MMss209 Haynes W. Dugan Memoirs
MMss210 Roberson-Wheeler Family Bible Transcription
MMss211 Mudd Family Genealogy


and Bailey's Dam–1963
MMss212 Highland Ave. Partnership
MMss213 Mansfield Female College – A History,


Henry Stotts
MMss214 Shreveport Music CDs
MMss215 W. K. Henderson
MMss216 Democratic Women of La., Minute Book
MMss217 Miscellaneous La. Articles , 1861-1887
MMss218 Queensborough Baptist Church Scrapbook,


1943-1982
MMss219 Minnie Chaffin Scrapbook, 1934
MMss220 Bicentennial House, 1989
MMss221 Mrs. A. O. Hendricks, Jr. Reminisces
MMss222 "Life and Miracles of J. Frank McAneny,"


Video, 1990s
MMss223 Shreveport (West) Subdivision Property Book,


1920
MMss224 LSU-Shreveport, Video, 1965-1972
MMss225 Mrs. S. J. B. Whited Materials
MMss226 SRAC Public Art CD, 2000
MMss227 Shreveport Baseball Team Official Score


Book, 1925-1949
MMss228 Ben Marshall's Story


by George Hawes Marshall
MMss229 VS&P Bridge Blueprints, 1915
MMss230 Video Documentary: La. Hayride,


Jean Paul Despujols, 1985
MMss231 Civil War Materials
MMss232 Rose Van Tyne, Holocaust survivor,


lecture transcript, 1991
MMss233 Red Bayou Plantation Ledger, 1904
MMss234 Diary of Prudence O. Watkins of


Pulaski, Texas, 1855
MMss235 Earl Long Video, 1985
MMss236 Huey Long Video
MMss237 Earl Long Symposium, transcript
MMss238 Congressional Reports, 1816-1875


La., Tex., Ark.
MMss239 Southwestern Gas & Electric Co. Negatives
MMss240 Dunlap Memorial Presbyterian Church


History, 1943-1957
MMss241 Sallie Hutton Sentell Anderton Genealogy
MMss242 Ronald Reagan Inauguration Scrapbook
MMss243 Byrd/Shreveport High School,


Research Scrapbook, 1944
MMss244 "African-American women learning life skills"


photos
MMss245 Steamboat Enrollment forms
MMss246 Bossier History Photographs
MMss247 Martin Luther King, Jr. Speech, 1958
MMss248 Tea and Topics Club, 1935-1948
MMss249 Mark Ketchum Photographs,


DeSoto and Caddo Parishes, 1975-
MMss250 Oil City Video
MMss251 Minor Meriwether Family
MMss252 Leo Alfred DeJean WWI, OH
MMss253 Johnnie Cochran Video
MMss254 Pines Sanitorium Material
MMss255 Cedar Grove: The Record Magazine, 1926;


Directory 66th St. Methodist Episcopal


Church, 1935
MMss256 Claude McCrocklin WWII Remembrances
MMss257 "Some Reminiscences About Negro Funeral


Customs in Blanchard."


by Wyolene Windham, 1976
MMss258 Huey Long Documentary by Ken Burns
MMss259 George Perkins Material
MMss260 Huckaby, E.G., Chief of Shreveport Police;


18 Photos of Crime Scene, February 1954
MMss261 Mansfield Female College Catalogue,


1925-1926; The Mansfield Collegian, 1923
MMss262 Christian Services' newsletter


"The Good News"


and notes about Sr. Margaret McCaffrey


by Charlotte Burrows, 1990-1999
MMss263 Progressive Study Club Scrapbook
MMss264 Louisiana Tourism / Plantations, 1970-2003
MMss265 First United Methodist Church Programs
MMss266 Louisiana State Fair, ca. 1934
MMss267 Highland Area Symposium, Video


August 1994
MMss268 Sequila Study Club Scrapbook, 1946-1966
MMss269 Palomar Hotel Architectural Project, 2002
MMss270 Ram Records Recordings
MMss271 Red River Video: "Stories from the


Red (1973)" 2003
MMss272 Madison Park Subdivision Scrapbook,


1947-1952
MMss273 Public Solicitation Review Council
MMss274 Louise Querbes memorabilia
MMss275 David Duke Material
MMss276 "Margaret Lewis Warwick and the Louisiana


Hayride" by Tracey E.W. Laird in


The Women of Country Music: A Reader, 2003
MMss277 Thomas L. Murphy's USAF Information,


1941-2000
MMss278 Caspiana Plantation
MMss279 Southern University, Baton Rouge,


Photographs, 1949
MMss280 Tom Crocker Railroad Photographs
MMss281 Shreveport Journal Society Pictures,


1956-1957
MMss282
MMss283 Disosway Material
MMss284 Caddo Parish History by Monica Pels
MMss285 Mathey WWII Scrapbook
MMss286 Shreve, Henry Miller
MMss287 LSUS Archives Exhibits & Receptions Videos
MMss288 1908 DAR Cook Book
MMss289 Santa Maria Produce Interview (DVD)
MMss290 Mrs. E. L. McGuire Interview (VHS)
MMss291 Spreckelmeier Railroad Collection
MMss292 World War II Memoirs - Cliff Harwell
MMss293 The Shreveport Epidemic, 1873 (A Play)


by Horace Knowles
MMss294 DeSoto Historical Society
MMss295 Letter to Dr. and Mrs. N. J. Bender
MMss296 Railroad Brochures Advertising the Merits of


Living in NW LA (Early 20th Century)
MMss297 Shreveport Sports - Game Program ca. 1953
MMss298 New Orleans Pacific Railway Co. Activities


in DeSoto Parish 1872-1885
MMss299 A.L. Zwally Diploma
MMss300 Bossier City 100th Anniversary DVD
MMss301 "Dreamers and Gamblers" DVD
MMss302 Vicksburg, Shreveport & Pacific


Railroad Documents
MMss303 Claiborne-Polk Military Railroad
MMss304 Estelle Barlow Story [Henry Hall]
MMss305 Walter B. Jacobs and Edward Jacobs


Material
MMss306 USO Mardi Gras — Shreveport, Louisiana


(1943)
MMss307 Shreveport Underground Newspapers
MMss308 Snyder Papers
MMss309 Norman V. Kinsey, Sr's Oil Field Footage


Circa 1926-1930
MMss310 Louisiana Hayride Photographs
MMss311 Minor and Ruth Vinck Interview (DVD)
MMss312 Broadmoor Subdivision Unit No. 2


Abstract of Title-1825-1932
MMss313 First Presbyterian Church Materials


1926-2000
MMss314 Lake Ridgewood - Pollard Dam - Long Lake


Subdivision Plans and Specifications
MMss315 Shreveport Shriner's Parade, 1961 (DVD)
MMss316 Shreveport Farewell/Shreveport Sizzlers:


Our City's Songs,1902-1990 (CDs)
MMss317 The W.K. Henderson Iron Works and Supply


Company of Shreveport, Louisiana :


Catalogue C
MMss318 Ledger: Unidentified, Individual Accounts,


1909-1920
MMss319 Lindsey Wagon Company Ledger, 1922
MMss320 Sugar Purchase Certificates, 1940s
MMss321 The History of the Shinn Family in Europe


and America by Josiah H. Shinn (1903)
MMss322 Societe Francaise de Bienfaisance et


d'Assistance Mutuelle de Shreveport,


Minutes Book, 1890-1927
MMss323 Ledger: Shreveport Moving and Storage,


Incorporated, 1960-1968
MMss324 Claude Burson, Jr. Documents
MMss325 H. Hadley Stewart Photographs
MMss326 Harvey C. Couch and Kirke Couch Materials
MMss327 Goodwin/Allen Family Materials
MMss328 Camp Beauregard Letters
MMss329 Vivian, Louisiana Scrapbooks (CDs)
MMss330 The Penman's Art Journal, 1899-1900


Editions (Incomplete)
MMss331 Historic Preservation of Shreveport, Inc.


Discussion of Organization History (DVD


and CD)
MMss332 KWKH Louisiana Hayride Broadcasts,


c. 1958-1959 (CDs)
MMss333 Caddo Parish Magnet High School Research


Papers and Interviews


(Instructor: Susan E. Keith)

MMss335 Far East Air Forces / Pacific Air


Forces Material.
MMss336 Fairfield Avenue School PTA Yearbook,


1935-1936
MMss337 Gladstone Building Material


(906 Gladstone Boulevard)
MMss338 Samuel J. Webb Letter Book
MMss339 James R. Byrd Civil War Material
MMss340 Territory of Louisiana Map
MMss341 Marie Caillet Material/Dodd College Letters
MMss342 Louisiana Tech School of Architecture


Historic Building Survey
MMss343 Ron Rice Historic Shreveport Galleys
MMss344 Shreveport's Slave Market by Jacques D. Bagur
MMss345 Ormond Place-Broadmoor/South Highlands


(Abstract of Title-Three Books), 1858-1923
MMss346 The Inn (hotel) Letterhead
MMss347 Roberts Family Letters
MMss348 Dunbar Lockwood Photographic Collection
MMss349 Line Avenue School Photographic Album,


1908-1909
MMss350 Mayme Lee Scaife Boyd Materials
MMss351 Loyola College Prep Oral History Project
MMss352 C. Bickham Dickson Park, 1986 (images on CD)
MMss353 World War II Memoirs
MMss354 Joseph M. Knowles' Louisiana Ordnance Plant


Memorabilia, 1941-1945
MMss355 Tucker & Thurmond Cotton Brokerage, 1866 ;


Washington Hotel opening dinner menu, 1924