MOORE, BEATRICE HAWTHORNE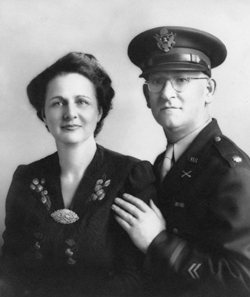 Moore, Beatrice Hawthorne (1898-1990) was the first woman in Louisiana history to preside over the Louisiana House of Representatives. Beatrice Hawthorne Moore was born in Dunkirk, Indiana, on September 16, 1898, the daughter of Charles and Oral Alice (Evans) Hawthorne. She graduated from Louisiana State Normal School, now Northwestern State University of Louisiana, in Natchitoches, Louisiana, and earned a Bachelor of Science in Social Science and Public Affairs.
She married Lt. Col. Waldo Wightman Moore of Shreveport, Louisiana, on December 28, 1920. They had two sons, Waldo Hawthorne and Charles Wightman Moore. From 1919 to 1920, she taught Mathematics in junior high school in Shreveport. She became a member of the Louisiana House of Representatives in 1940 and served through 1944. She served as Chairman of the Committee on Charitable Institutions and as a member of the Registration and Election Laws Committee, and the Printing Committee. In 1939, she was elected Vice President, and later President of the Democratic Women's Club of the Fourth Louisiana Congressional District. She was the first woman ever to be elected to the state legislature from Caddo Parish and one of the first two women elected to the Louisiana State Legislature. She was the first woman to preside over the Louisiana House of Representatives.
When she relocated to Virginia in 1944, she was elected President of the National Order of Women Legislators for the 1962-64 term, having previously held office as National Treasurer from 1956 to 1962. She served as Chairman of Public Affairs with the Virginia Federation of Women's Clubs from 1954 to 1958, and was Northern District Chairman of Civil Defense in 1959; Northern District Parliamentarian from 1958 to 1960, and Northern District Public Affairs Department Chairman from 1960 to 1961. She served as President of the Alexandria, Virginia, Woman's Club from 1959 to 1961 and was a member of the Woman's Auxiliary of the Salvation Army in Alexandria.
Prior to leaving Shreveport, she was State Chairman of Legislation for the Louisiana Congress of Parents and Teachers, was President of the largest local PTA in Louisiana, and President of the Ladies Auxiliary of the J. Milton Edwards Post, Veterans of Foreign Wars. She was also a member of the YWCA, the Shreveport Business and Professional Women's Club, a charter member of the League of Women Voters, and a member of the American Legion Auxiliary. She died in 1990, a champion of women's rights and public education.
Bibliography: Beatrice Hawthorne Moore, interview by Ann McLaurin, 11 October 1975; 13 March 1979, interview OH28, transcript, Northwest Louisiana Archives, Noel Memorial Library, Shreveport: Louisiana State University; Beatrice Hawthorne Moore Collection, Collection 713, Northwest Louisiana Archives, Shreveport: Louisiana State University.
Citation
The following, adapted from the Chicago Manual of Style, 15th edition, is the preferred citation for this article.
"MOORE, BEATRICE HAWTHORNE" Handbook of North Louisiana Online (http://www…….), accessed …………. Published by LSU-Shreveport.