YOUREE, HENRY HUDSON (1857-1910)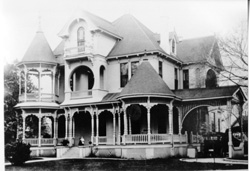 YOUREE, HENRY HUDSON (1857-1910) was a prominent businessman and philanthropist in Shreveport, Louisiana, from his arrival in 1887 until his death in 1910.
Youree was the youngest son of P. E. and Elvina Youree, born in Waverly, Missouri, August 2, 1857. The family moved to Gallatin, Tennessee, north of Nashville, where Henry received his early education and training. At the age of nineteen, he moved to Scottsville, Texas, where he joined his brother, Capt. Peter Youree, in a mercantile business. Later he became a railroad contractor and builder, operating in Texas, where he constructed a number of rail and street car lines. His brother, Peter, became owner and operator of two enterprises in nearby Shreveport, Louisiana, the waterworks system and the horse-drawn street car line, which operated on Texas street and avenue from Spring Street to Jordan Street. He also became vice president of Commercial National Bank in the city.
After his marriage to Mary Rose Austin, of Marshall, Texas, in 1887, Henry Youree left Scottsville, Texas, and came to Shreveport to take over operation of the waterworks and the streetcar line. When Peter Youree succeeded Simon Levy as president of Commercial National Bank in 1898, Henry Youree became vice president of the bank, a position he held until his death in 1910.
Youree was known for his generosity and philanthropy. He was especially interested in the old and disabled, and donated $5,000 to help establish an Old Men's Home in Shreveport. He was a contributor to Shreveport's first organized social welfare organization, the old Home Charitable Association, and contributed both time and money to movements benefiting the general welfare.
Youree died in this Jordan Street home on May 10, 1910, after a long illness. His body was taken by train from Shreveport to Scottsville, Texas, accompanied by hundreds of friends for all walks of life.
Bibliography: McClure, Lilla, and J. Ed Howe, History of Shreveport and Shreveport Builders. Shreveport: Louisiana, 1937.
Citation
The following, adapted from the Chicago Manual of Style, 15th edition, is the preferred citation for this article.
"YOUREE, HENRY HUDSON" Handbook of North Louisiana Online (http://www…….), accessed …………. Published by LSU-Shreveport.