SOMDAL, DEWEY ANDERSON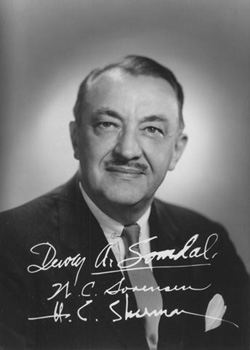 SOMDAL, DEWEY ANDERSON (1898-1973) Dewey A. Somdal was a successful architect, preservationist, and civic leader in Shreveport, Louisiana. He was born in Mansfield, Illinois, June 5, 1898. Both his parents, Truls A. and Karen Jybdahl Somdal were natives of Norway. Somdal received his architectural training at the University of Illinois and Chicago Academy of Fine Arts. He began his career in Louisiana with the firm of Favrot and Livaudais in New Orleans, where he married Eugenie Watson. They had one daughter, Eugenie Karen. He moved to Shreveport in February of 1922 and began his fifty-one year architectural practice. He entered the office of the late Edward F. Neild, Sr. and continued to practice through several successor firms. At the time of his death, he was senior partner in the firm of Somdal-Smitherman-Sorensen-Sherman-Associates. He served with the Corps of Engineers in World War I and with the Navy in World War II.
During his architectural career, Somdal was involved in planning major buildings in Louisiana, Texas, Missouri, Arizona and Arkansas, including the Harry S. Truman Library. Local projects in which he participated include Caddo Parish Court House, Shreveport City Hall, Shreveport Civic Theater, Louisiana State Exhibit building, Beck Building, Veterans Administration Hospital, Schumpert Hospital, New Shreveport Federal Building, Byrd High School, Fair Park High School, Shreveport Times Building, and many churches and residences. He was also an amateur historian whose passion was steamboats. He amassed a large collection of books, documents, and photographs related to the steamboat era in the Red River watershed.
Somdal was a Fellow in the American Institute of Architects, first president of the Louisiana Architects Association, chairman of the Metropolitan Planning Commission, chairman of the Downtown Development Committee, president of the Industrial Development Commission, Chairman of Community Chest-United Fund, and Director of Historic Preservation of Shreveport, Inc. He was named Mr. Shreveport in 1958. He died October 14, 1973.
Bibliography: J. Fair Hardin, "Dewey Anderson Somdal," Northwestern Louisiana: A History of the Watershed of the Red River 1714-1937, Vol. 3 (Louisville, KY and Shreveport, LA: The Historical Record Association, n.d.), 53-54; "Dewey A. Somdal," Vertical File. Northwest Louisiana Archives, Noel Memorial Library, Shreveport: Louisiana State University.
Citation
The following, adapted from the Chicago Manual of Style, 15th edition, is the preferred citation for this article.
"SOMDAL, DEWEY ANDERSON" Handbook of North Louisiana Online (http://www…….), accessed …………. Published by LSU-Shreveport.