SAREPTA, LOUISIANA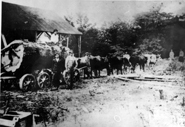 SAREPTA, Louisiana. Sarepta is a small community in Webster Parish, Louisiana, about twenty-five miles northwest of Minden, the parish seat. Early settlers in the area were William S. Denman, who purchased one hundred sixty acres in October 1848, James M. Butler, and Simon D. Moore, who settled there in 1850. The named originated about 1868 with a small country church that was named after Mrs. Sarepta Carter, who donated a Bible for the pulpit. The church became known as "old Sarepta Baptist church." A decade later, J. I. Allen built a small general store about a half mile from the church at a spot known to neighbors as "Old Hickory Tree." The store was referred to as "the store over at Sarepta," and eventually a settlement comprising the store, church, cemetery, and few small farm houses took the name. A post office was established and the name Sarepta was formalized in 1884. J. I. Allen became the first postmaster.
In 1898, the Louisiana and Arkansas Railroad secured right-of-way and started work on a road in the vicinity and J. I. Allen was made the depot agent. In 1920 the Bank of Sarepta was organized and a variety of businesses began to appear. In 1923 a deep water well was drilled. The first drive in gas station, The Standard Oil Wholesale Station, and a telephone exchange were added the following year along with a pipeline to Beaumont, Texas, opening a vast market for natural gas, which proved abundant in the Sarepta area.
Various buildings at different sites filled the educational needs of the area, the first being a crude log structure erected in 1853. It was a one-room log cabin heated by a large open fireplace. Benches and other furniture were made from logs. The cabin served until 1920 when a more modern school building was built that included Sarepta's first high school.
Sarepta received another economic boost in 1937 with the construction of the International Paper Company mill at nearby Springhill. The town was incorporated in 1955 and Richard Griffin was elected the first mayor. By 1971, the population had grown to 1,000. The population was 925 in 2000.
Bibliography: Emily U. Miller, The History of Sarepta (Shreveport, LA: Tobey Printing Co., 1924-25); Tommie Blunt O'Bier, North Webster Parish, The Early Years. (Shongaloo, LA, 1996); "Sarepta," Webster Parish Centennial. (Minden, LA, 1971).
Citation
The following, adapted from the Chicago Manual of Style, 15th edition, is the preferred citation for this article.
"SAREPTA, LOUISIANA" Handbook of North Louisiana Online (http://www…….), accessed …………. Published by LSU-Shreveport.