PEYTON, JONATHAN CHESHIRE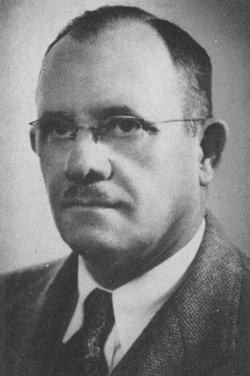 PEYTON, JONATHAN CHESHIRE (1890-1963) was partner in the architectural firm of Peyton and Bosworth in Shreveport, Louisiana. The firm was identified with some of the largest building projects erected in the Ark-La-Tex area after 1947. They were known for their designs of churches and school buildings, one of which was the First Baptist Church Education Building (1951) in Shreveport, Louisiana. Peyton and Bosworth also designed Lakeshore Drive Junior High School Building in Shreveport (1949).
Peyton began studying architecture at the firm of Edward F. Neild in 1916. He left Neild's office in 1923 to become associated with Goodwillie & Bessell in New York City. At the end of 1924, he returned to Shreveport and worked as construction supervisor and promoter of residential housing projects for E. M. Turner, a Shreveport realtor. In 1925 he became associated with Clarence W. King, Shreveport architect, as draftsman, designer, specification writer and construction supervisor.
In 1933, Peyton opened his own office and formed a partnership with J. P. Annan in 1934 under the name Peyton and Annan. They were retained as architects on several state and city projects, and were associated with other local architectural firms for designing and constructing a slum clearance project. Peyton wrote the specifications and was chief construction supervisor for the Baton Rouge, Louisiana, Reconsignment Depot in 1942 and 1943. He practiced solo from 1943 until his association with Bosworth in 1946.
Peyton was a Louisiana native, born at Sarepta, Webster Parish, April 17, 1890, son of William Madison Peyton and Fenner Cheshire Peyton. He was one of nine children: six brothers, Rupert R. Peyton, C. G., B. H., P.G., R. A., and E. E. Peyton, and three sisters, Mrs. W. B. Crow and Mrs. Nevella Crawford, both of Shreveport, and Mrs. F. K. Edens, Longview, Texas. He attended Bossier Parish elementary and high schools, Princeton University, and two years at Beaux Art Design in architecture at Hyrons Atelier, New York City. He served two years in the U.S. Air Corps in 1917-1918. He was licensed as an architect in Louisiana, Arkansas, and Texas and was registered with the National Council of Architectural Boards. He was also a member of the American Institute of Architects and Louisiana Architect's Association. He was a Mason, a Shriner, and a Methodist, and a president of the Caddo-Bossier Humane Society.
Peyton married Emma Henry of Dubach, Louisiana in 1924. She was a teacher in Shreveport public schools. Their home was 735 Slattery Boulevard in Shreveport. All but three of the buildings on Centenary College campus (as of 1963) were Peyton's work and other well-known projects designed by him included the nursing school at Confederate Memorial Medical Center, the Shreveport Juvenile Detention Home, courthouses in Minden and Many, the Texarkana Junior College physics building and two dormitories at Grambling College. He died January 1, 1963 and is buried at Forest Park East Cemetery in Shreveport, Louisiana.
Laura Lyons McLemore
Bibliography: "J. Cheshire Peyton," History of Shreveport and Shreveport Builders, vol. 2. Includes History of Bossier Parish and Bossier City. (Shreveport, LA: J. Ed Howe, 1951): 137, et. seq.; "Jonathan Chester Peyton," Shreveport Journal, 2 January 1963, 1-B. (Find-a-Grave, http://www.findagrave.com/cgi-bin/fg.cgi?page=gr&GRid=59966047 accessed 15 January 2013). Robert G. Leighninger. Building Louisiana : the Legacy of the Public Works Administration (Oxford, MS: University Press of Mississippi, 2007), 195, 197-201, 252, 257.
Citation
The following, adapted from the Chicago Manual of Style, 15th edition, is the preferred citation for this article.
"PEYTON, JONATHAN CHESHIRE" Handbook of North Louisiana Online (http://www…….), accessed …………. Published by LSU-Shreveport.