HOOPER, LOUIS SYLVESTER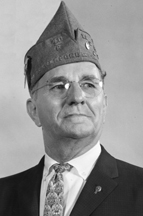 HOOPER, LOUIS SYLVESTER (BUCK) (1902-1984). Louis Sylvester (Buck) Hooper, income tax consultant and advocate for veterans' causes, was born in Pickering, Louisiana, on April 28, 1902, to Louis Wilburn and Francis (Drummond) Hooper. After moving to Leesville, where Louis completed his elementary and high school education, he joined the U.S. Navy during World War I and later served in the Student Army Training Corps (SATC).
After the war he entered Soule College in New Orleans and graduated with honors in accounting. Employed as a deputy collector with the U.S. Internal Revenue Service (IRS) in New Orleans, Louis relocated to Shreveport in 1937 in a like position. He resigned from the IRS in 1944 and entered private practice as an income tax consultant with offices in the Ward Building.
Active in veterans' affairs, Louis was a member of Lowe-McFarlane Post 14 of The American Legion and served as Commissaire Intendant (treasurer) and local and national director of the Carville Star Committee of Voiture Locale 137 of the 40 & 8 Society. His work with the 40 & 8 helped ensure the continued funding, publication and dissemination of The Star, the patient-published magazine of the U.S. Public Health Service Hospital at Carville, Louisiana, the only hospital dedicated to the treatment of Hansen's disease (leprosy). He was also a 32nd degree Scottish Rite Mason, a Knight Templar, a member of El Karubah Shrine Temple, Joppa Lodge #362 F&AM and Noel Memorial United Methodist Church.
Louis married Agnes Catherine Lewis on November 10, 1929. They had one son, Louis S., Jr., and a daughter, Catherine, who died in an automobile accident on May 21, 1952. He died January 9, 1984, in Shreveport and is buried at the Leesville Cemetery.
Shawn M. Bohannon
Bibliography: "Louis Sylvester Hooper," History of Shreveport and Shreveport Builders, vol. 2. Includes History of Bossier Parish and Bossier City. (Shreveport, LA: J. Ed Howe, 1951): 164; "Louis S. Hooper," Shreveport Times, January 10, 1984, 7A; Collection 667: Records of Voiture Locale 137, La Société des Quarante Hommes et Huit Chevaux (40 & 8 Society), 1929-1981, 1994-2010: Box 4, Folder 78 (Carville Star). Northwest Louisiana Archives, Noel Memorial Library, Shreveport: Louisiana State University.
Citation
The following, adapted from the Chicago Manual of Style, 15th edition, is the preferred citation for this article.
"HOOPER, LOUIS SYLVESTER" Handbook of North Louisiana Online (http://www…….), accessed …………. Published by LSU-Shreveport.